Tatjana has over thirty years of experience as an athlete, a full-time dedicated teacher working with children from grade three all the way to university level, and as a Track and Field coach. Moreover, she has been an athlete herself, having earned many national championship titles in her homeland and also having participated in various international events, including the European Championships. In addition to her vast practical experience, her educational background includes a university degree in Human Kinetics. Her coaching expertise is exemplified in many of her current athletes who have dominated events like hurdling, jumping and sprinting in the provincial level, achieving outstanding results.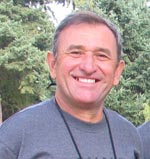 Besnik has over thirty five years of experience as an athlete, teacher and dedicated coach. His career started early in life with athletics as a top middle distance and cross country runner. Achievements include national champion titles in the 3000m steeplechase and participation in many international track and field competitions. Having worked as a teacher with youths in the elementary levels to coaching university athletics, Besnik is regarded as an extremely qualified coach with wide ranging experience. This vast background and expertise allows him to recognize and develop young talented individuals. His educational background includes a university degree in Human Kinetics. Among the many clubs that he is currently overseeing, Besnik is coaching Cross Country and Track and Field at Douglas College and the University of British Columbia.
Recent Blog Posts
Learn from the top thought leaders in the industry.
Don't Be Shy. Get In Touch.
If you are interested in working together, send me an inquiry and I will get back to you as soon as I can! Contact Me